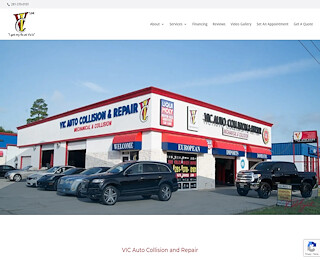 Have you been involved in an auto collision or auto crash? An auto body shop can help restore your car to its original states. Whether your car is damaged or scratches, VIC Auto Services is a trusted European auto body shop to turn to.
At VIC Auto Services, we specialize in repairing damaged or crashed vehicles and restoring these vehicles to their original or factory look. Our trusted experts can work on various European models and brands of cars, including Audi, BMW, Porsche, Mercedes-Benz, Volkswagen, and so forth. We are the ideal expert you can always turn to for your body collision and paint repair needs.
What Does A European Auto Body Shop Do?  
Talk about aesthetics! An auto body shop is a place for any issues on the general appearance of a vehicle. An auto body shop repairs cars with body damage and are experts when it comes to interior cleaning, dented fenders, cracked windshield, and all forms of paint jobs.
They have specialized tools and knowledge in making sure all the necessary body repairs of the damaged car are done to make it look just as new again. Below are some of the services provided by a European auto body shop:
Inspection: When a vehicle is involved in a collision or a crash, and it's taken to an auto body shop, the shop does a thorough evaluation of the car and its body. They do this initial evaluation to know the body repairs that need to be done. 
Paintless Dent Removal: Sometimes, elements such as grocery carts, flying rocks, and some others leave noticeable dents on the body panels and doors of a car. This affects the appearance of the car, and can even cause expensive paint damage later. Auto body shops offer the service of removing these dents. They use a variety of special tools to gently and slowly push dents back into place without harming the factory paint job.
Auto Body Painting: One of the most common services every auto body shop will provide. It involves a new paint job, or probably improving on the former paint job on a car. After an accident, a new paint job is usually necessary to protect the newly repaired exterior of the car. These body shops do paint jobs on vehicles with bodies that are marred by scratches, rock chips, rust, and any other case of body damage. 
Frame Testing and Straightening: Studies show that a large percentage of vehicles involved in accident sustain frame damage. Frame testing and straightening include the inspection and repairs of a car frame when the car is taken to the auto body shop after an accident. A car with a bent or weak frame is a risk. Therefore, the auto body shop is the place to take your car to after an accident for proper frame straightening. 
Choose Us for Your European Auto Body Repair Needs
At VIC Auto Services, we provide quality workmanship, excellent, reliable, and detailed services. We are one of the best European auto body shop in Houston that you can always turn to for quality and unparalleled services. Contact us today to learn more about our services. An amazing experience awaits you. 
European auto body
VIC Auto Collision & Repair
+1 281-370-0101
17545 Kuykendahl Road
Spring
TX
77379
View Larger Map